Finally, I've created this site for reviews for beauty and cosmetic products, food, travel, fashion. I feel so corny while am doing this post, coz you know I'm not use with this. I'm not an expert and still new, so please bear with me. So for my second post, it has something to do with my beauty product, specifically for my skin care.
I have fare, sensitive skin and tends to get dry easily. And when I gets dry, I can really feel the itch on my skin. I don't know if you have experienced that but that's my biggest dilemma. I have tried several lotions or moisturizers, and my skim will like it for few months but I'll get the same problem again.
Thank God I have a sister who's so into beauty products. I've learned so much from her. And yes, this one is her recommendations, Aveeno Active Naturals Skin Relief Moisturizing Lotion with Cooling Menthol. This is what I've been using for so almost a year now. And I can see my skin loves it every day.
Aveeno is a manufacturer of skin care and hair care products in the United States and is a subsidiary of American consumer goods and pharmaceutical company Johnson & Johnson. Aveeno was founded in 1945, and its first product was their Soothing Bath Treatment. Aveeno is known for its use of "active natural" ingredients and offers products to treat skin conditions such as eczema, psoriasis, poison ivy, poison oak, poison sumac, pruritus ani, chicken pox, hives, and sunburn. In 2011, Aveeno's Active Naturals Positively Radiant Tinted Moisturizer was named one of the 10 most toxic cosmetics by the Environmental Working Group.The name Aveeno is derived from the scientific name for the common oat, Avena sativa.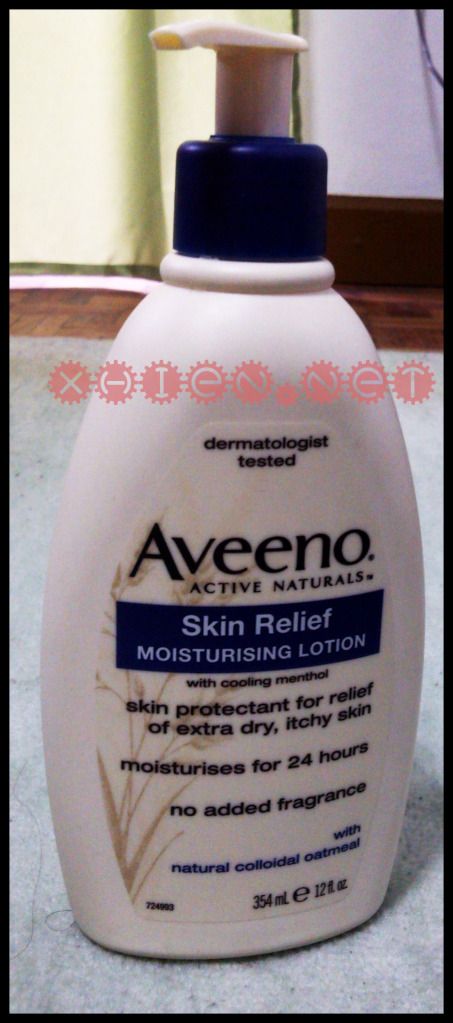 What It Claims: skin protectant for relief of extra dry, itchy skin. moisturizes for 24 hours. no added fragrance. with cooling menthol and natural colloidal oatmeal. Specially formulated to relieve and protect extra dry, itchy skin. Unlike ordinary lotions the unique formula combines natural oatmeal, long known for its skin soothing properties, with rich emollients to moisturize skin for 24 hours. The formula also includes cooling menthol to effectively relieve the itchiness caused by dry skin. Non greasy and fast absorbing and can be used for hands and body every day. And it is noncomedogenic (wont clog pores) and contains no added fragrance or drying alcohols, so it's even gentle enough for sensitive skin. Leaves your skin soft, smooth and naturally healthy looking skin.
My Verdict: What it claims are all true. This is what I've been using for so almost a year now. And I can see my skin loves it every day. The cooling effect does a good job to make me feel relax and relieve with any itch. When it says moisturizes for 24-hrs, it really is. It is also fast absorbing with no greasy effect. I can really feel my skin is so soft, smooth and never gets dry even the next day. It's good for everyday use all over your body. I will rate this product as 5/5.
I'm not sure though if this one is still available since I haven't seen this specific kind in the mall. They better have this product back or else I'm not a happy camper.
Before I settled to Aveeno, I have other products that I also like using on my skin.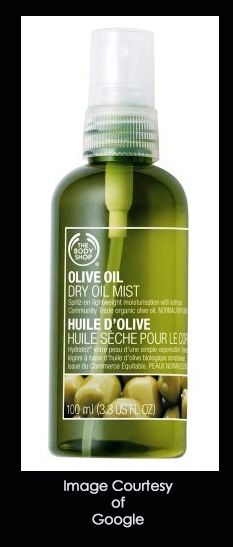 Body Shop Olive Dry Oil Mist – This is my sisters recommendation. I love body shop products and this maybe one of my faves.
The Body Shop International plc, known as The Body Shop, has 2,400 stores in 61[2] countries. The company, which has its headquarters in Littlehampton, West Sussex, England, was founded in 1976 by Anita Roddick and is now part of the L'Oréal corporate group. The Body Shop carries a wide range of products for the body, face, hair and home. The Body Shop claims its products are "inspired by nature" and they feature ingredients such as marula oil and sesame seed oil sourced through the Community Fair Trade program.
What It Claims: Natural moisturizer for normal to dry skin. Uses organic ingredients.
My Verdict: Super like this product. I usually use this after taking a bath and the smell is so good and very relaxing. It also moisturize and absorb fast in your skin. It doesn't feel greasy too. This is recommended for everyday use. I would rate this as 5/5.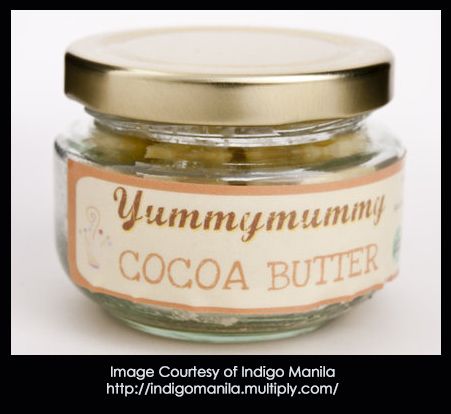 Yummymummy Cocoa Butter – Still one of my sisters recommendation. She used it before when she got pregnant to prevent stretch marks. And when I had some skin problems, she recommended it to me.
Indigobaby Yummy Mummies believe in only giving the best for their babies. We have an essential selection of bath and body products, which are effective, all-natural and safe for babies' most sensitive skin.
What It Claims: Use on your lips, face & body as a natural skin moisturizer and as a stretch mark prevention aid for preggy bellies. Also recommended for treatment of skin conditions such as eczema and dermatitis. Recent research indicates that massaging the skin with cocoa butter may help relieve stress, boost the immune system, and even prevent cancer.
My Verdict: I like the product because it does prevent dryness and moisturize your skin. The smell is also good. You'll get tempted to taste it. HAHAHA. The only thing I don't like is it doesn't dry up easily on your skin. I also don't recommend this on a sunny weather, because it feels hot in the skin. Maybe because of its ingredients. But overall, I would give it a 4.5/5 rating.
I know all of us has different skin type. These products works well for me but I'm not sure if it will for you. But the bottom line is, I will certainly recommend these products.